Wednesday again?? Whaaaat?! How did that happen? Do you find the shorter days tend to fly by extra quick? I sure do. Especially since it's now dark when get home from work, boo!
I have so many recipes building up to share with you, but they'll have to wait for the weekend so I can actually photograph in daylight! I've got apple cinnamon muffins, coconut butter, espresso brownies, an amazing beet and orange arugula salad, a cookie dough dip and the most delicious sweet potato soup! I can't wait to post them for you because they're so good! So…much…YUM!!
Let's get to my What I Ate Wednesday #18 shall we? It was a tasty day full of wonderful, yummy plant-based meals and snacks. Read on and enjoy! Please don't mind the crappy photos, I think it's almost time for a new phone!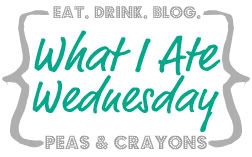 Breakfast
Morning Snack
Vegan Apple Cinnamon Muffin with Homemade Coconut Butter (Recipe coming soon for both!)
1 Navel Orange
Small Coffee with Almond Milk
Lunch
Arugula Salad with Raspberries, Green Pepper, Grated Beet, Grapes, Almonds
Salad Dressing: Maple Syrup, Dijon Mustard, Red Wine Vinegar, Olive Oil, Salt and Pepper
Afternoon Snack
Dinner
Coconut Curried Cauliflower and Sweet Potato Soup (Recipe coming soon!)
That's all for today. That soup was seriously filling so I won't eat anything else this evening. It's going to be an early night for me. I'm tired today after hittin' up the Canucks game last night with the hubs. They won in OT, woohoo! It's always nice to go to a winning game, and trust me, I've seen my fair share of Canucks losses. Haha! Oh, Canucks…
I'll be heading to bed right after this to finish off Eating Animals
 by Jonathan Safran Foer. Have you read it? This book has been heartbreaking and maddening and often leaves me in tears, but I would highly recommend reading it to anyone. Here's a little bit about it:
Like many others, Jonathan Safran Foer spent his teenage and college years oscillating between omnivore and vegetarian. But on the brink of fatherhood—facing the prospect of having to make dietary choices on a child's behalf—his casual questioning took on an urgency. This quest ultimately required him to visit factory farms in the middle of the night, dissect the emotional ingredients of meals from his childhood, and probe some of his most primal instincts about right and wrong.

This book is what he found. Brilliantly synthesizing philosophy, literature, science, memoir, and his own detective work, Eating Animals explores the many stories we use to justify our eating habits—folklore and pop culture, family traditions and national myth, apparent facts and inherent fictions—and how such tales can lull us into a brutal forgetting. – From the Eating Animals Website
It can all be so overwhelming sometimes, but I have to believe I'm making a difference by eating a plant-based diet, voting with my dollars and doing what I can to raise awareness and educate people on the issues. If you read it or have already read it, please let me know what your thoughts are!
Now who's excited for the long weekend?
Let's start getting in the Thanksgiving spirit – post one thing to the comments that you're grateful for! 
Goodnight xoxo -Deryn