Welcome to another weekly edition of What I Ate Wednesday! Things have been pretty delicious and nutritious in my world lately and today was no exception! Enjoy!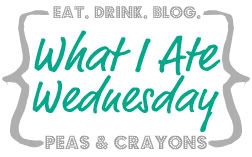 Breakfast/Post-Workout
Smoothie – 1 large beet, 2 bananas, 2 tbsp North Coast Naturals Organic Hemp Protein, 1 cup mixed frozen berries, 1.5 cups unsweetened almond milk
Small Americano with Almond Milk
Morning Snacks
How cute are walnut-stuffed raspberries?! Yes, I like to play with my food sometimes!
Snack #1 – 1 Vegan Peanut Butter Banana Muffin (recipe coming soon!)
Snack #2 – Cucumber, Raspberries and a few Walnuts
Lunch – Unpictured
…sometimes I get hungry and forget to photograph my lunch…you'll have to take my word for it that it was delicious!
Whole Wheat Pasta with Tomato Sauce, Zucchini, Nutritional Yeast, Roasted Garlic and Red Onion
Afternoon Snack – Unpictured
I also forgot to photograph this, but if you're really curious, you can always Google what an apple looks like! Haha. Just kidding. But really, look back at my last 3 What I Ate Wednesday posts and you'll find the exact same thing listed as an afternoon snack. Exciting times.
Organic Apple
North Coast Naturals Raw Hemp Smoothie in Chocolate
Dinner
Roasted Sweet Potatoes
Kale Salad – Kale Massaged with Olive Oil, Red Pepper, Red Onion, Cucumber, Walnuts, Raspberries
Salad Dressing – Basil, Red Wine Vinegar, Salt, Pepper, Garlic, Raw Honey, Mustard
Steamed Broccoli
That will be all for today. The only thing I didn't list was a glass of lemon water first thing in the morning and about 3-4 L of water throughout the day. I'd usually have an after-dinner treat, but I'm trying to keep an eye on after-dinner snacking when I'm not hungry. I find I usually want something sweet right after dinner, but if I distract myself, by writing this post for instance, the craving passes no problem. Now, I've recognized I'm still full from dinner and I don't need to eat anything else today. So that's another WIAW in the books! 
My puppies LOVE KALE almost as much as me!
What was the most delicious thing you ate today?
xo -Deryn