A very happy What I Ate Wednesday to you my friends! I've got a couple really yummy goodies to share with you today! Other than that I don't have much time to chat, so I'm getting right down to it!
Here's my fifteenth What I Ate Wednesday post! Hope you find something new and interesting!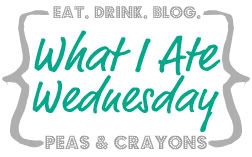 Upon Rising/Pre-Workout
Big Glass of Lemon Water
Soy Cafe Misto
As usual, I started the day with a glass of lemon water, which is my favourite thing to do first thing in the morning. I hadn't planned on eating pre-workout, but I was getting hungry on the way to the gym, plus it was grey and rainy here in Vancouver (better get used to it!), so I stopped and treated myself to a coffee. So good. Oh, the little things in life. 
Breakfast/Post-Workout
Oats with Almond Milk, Ground Flax, Strawberries, Almond Butter
Once again, it was oats for breakfast today. They're actually quicker for me to make than a smoothie, plus i don't have to wash all the blender pieces! It literally takes me two minutes to throw it in a container before I leave for the gym, and it's ready to eat after my workout. I never get tired of it because it's different everyday and I love it!
I was thinking of putting together a blog post with 10 or so flavour combos for your overnight oats, I have so many go-tos that I could share! Caramel Vanilla anyone?! Do I have your attention?
Morning Snack
I know my snacks aren't very exciting, but with limited time during weekdays, I always choose whole food snacks. They're cheap, healthy, full of vitamins and the perfect on-the-go healthy food. On the weekends I might make something a little more share-worthy but during the week it's typically just fruit and/or some nuts! Nothing wrong with that, right?!
Lunch
Curried Coconut Sweet Potato Soup with Peas & Spinach
This was amazing! I made it last night by adapting this recipe from Love and Lemons. I usually make a nice soup once a week just because they're so quick and easy, and you can't really go wrong. Plus if I need to clean out the fridge, a  big veggie soup is the perfect solution! This soup was sweet, spicy, rich and completely mouth-watering. I'll be making it again for sure. My mouth is watering just thinking about it again!
By the way if you've never visited Love & Lemons, you should get over there asap. While it's not a vegan food blog, there are a ton of healthy, vegan and vegetarian options and I'm totally in love with her photography. 
Afternoon Snack #1
1 Apple with Almond Butter
Afternoon Snack #2
1 Serving of North Coast Naturals Raw Hemp Smoothie
Dinner
Spicy Hummus Swiss Chard Wraps with Carrot, Cilantro, Cucumber and Avocado
I wasn't sure what I was making when I pulled all this out of the fridge, but it ended up being this delicious little veggie wrap. My hummus had 2 cans of chickpeas, 4 cloves of garlic, a good pour of olive oil, the juice of 3 lemons, salt, pepper, red pepper flakes and 2 big scoops of tahini.
I grated up some carrots, sliced some cucumbers and avocado, chopped cilantro and green onion and then stuffed it all inside a big swiss chard leaf. They were incredibly filling and took all of about 10 minutes to throw together! Plant-power baby!
I ate two for dinner and made the rest into a salad for lunch tomorrow.
That's it for today. I can't believe how filling those wraps were! I would have loved dessert, but I'm honestly stuffed! I did make something for my husband though, which was banana, strawberry, date, cocoa, cinnamon, almond butter, pecans and a drizzle of maple syrup. I'm so full I didn't even take a bite! It must have been all those chickpeas that filled me up.
I also wanted to let you know I'm still working on a good vegan ice cream. I know there are a ton of vegan ice cream recipes around the interweb these days but I want to do my own. Unfortunately, I can't seem to get the texture quite right. With this batch I stirred it every 30 minutes, but it still didn't come out very creamy.
The taste was phenomenal, but I'm going to keep trying until I get it right. This version was a raw, vegan raspberry ice cream with raw brownie bits. To make the brownie bits I just mixed 1/2 cup of dates with 2 tbsp of maple syrup and 3 tbsp of cocoa powder. If you're craving a decadent chocolate treat, try rolling some of those up!
We polished this off last nigh so it's not actually part of my What I Ate Wednesday but I hope to having it coming your way soon! Sorry for the tease! 
Well, like I said, no time to chat today! Have a wonderful evening and I'll be back tomorrow with Cold Spicy Lime & Peanut Noodle Salad! Don't miss it!
xo -Deryn