Hello everyone and a very happy What I Ate Wednesday to you! Today was a very yummy day and 3 recipes from todays menu are coming your way very soon!
It's been so nice to have groceries in the house this week, as opposed to last weeks nightly trip to the grocery store. This week, I've been able to walk in the door and start dinner right away, which is perfect.
I actually really love meal planning and prefer to always plan my weeks ahead. It's like a puzzle trying to figure out how many different ways you can use and combine a set number of ingredients. Maybe I think about food to much, who knows, but I love writing recipes and dreaming about what I'll make for dinner.
Here goes! What I Ate Wednesday #14!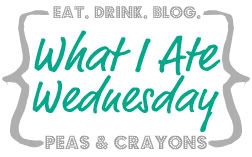 Upon Rising/Pre-Workout
Water with 1/2 a Lemon Squeezed In (Not Pictured)
1 Mandarin Orange
I drank my lemon water as soon as I woke up and scarfed down the mandarin on the way to the gym. Fruit makes an awesome pre-workout snack and a mandarin orange was the perfect little natural boost of energy.
Breakfast/Post-Workout
Oats with Chia, Ground Flax, Almond Milk, Banana, Blueberries, Cinnamon
After the gym, it was time for breakfast and I'm still on my daily chia seed kick. Today I added in oats and ground flax so it was a little more substantial but with all the blueberries and banana, it didn't need any sweetener. It's just delicious as is!
Morning Snack
Small Black Coffee with a Splash of Almond Milk (Not Pictured)
Vegan Blueberry Pecan Muffin (Recipe coming soon!!)
1 Mandarin Orange
I made these muffins last night so my husband has something to eat for breakfast. I'd love it if we had time to sit down and eat a nice breakfast together, but that would mean getting up earlier than 5:30am, and that is just not happening. Ever. So I try to keep a quick breakfast option on hand for those busy mornings. They turned out pretty amazing for a vegan muffin and I can't wait to post the completely egg and dairy-free recipe for you!
Lunch
Cold Noodle Salad with Spicy Lime Peanut Sauce and Cilantro (Recipe coming soon!!)
This tasty dish was leftover from last nights dinner and it was so good today that I might have licked the bowl...at work. Not my proudest moment…..I hope no one was looking.
Afternoon Snack
1 Apple
North Coast Naturals Raw Hemp Smoothie in Natural Chocolate
Have I ever told you guys how much I love this Raw Hemp Smoothie? It's packed with fibre, it's organic, completely raw, high in protein and it actually tastes really good. It's not to sweet, which I like and it has a hint of coconut. It's the perfect afternoon snack and I look forward to it everyday.
Pre-Dinner Snack
2 Small Dates Stuffed with 4 Almonds and a Dab of Peanut Butter
I was too hungry to wait for dinner so I had to sneak in a couple of these little delights pre-dinner. Yum!
Dinner
Coconut Red Lentil Dahl with Brown Rice
Kale Sautéed with Lime, Garlic and Coconut Oil (Not Pictured)
My belly is still so full of this delicious, comforting meal. I wasn't exactly sure where this meal was going when I started out, but after eyeing the curry powder, tumeric and coconut oil, this amazing dahl was brought to life. Is it bad that I'm already dreaming of eating it again for lunch tomorrow?!
I was going to mix the kale into the dahl but didn't want to mess with something so beautiful, so I opted for some sautéed kale on the side. I used a bit of coconut oil, lime juice, salt and garlic to cook the kale and it was perfect. I ate a huge plate of it before I even thought of taking a photo, so you'll have to take my word for it.
That's it for today. I was planning on a dessert tonight, but it's 8:30 and I'm still full from dinner, so I think I'm good.  And then I had a chocolate craving, so I made some 2-minute chocolate brownie bites. They had a handful of dates, a handful of almonds, a big scoop of peanut butter, 2 scoops of cocoa powder and some cinnamon. I had one of those and my chocolate craving is now satisfied. Now I'm done. 🙂
Before I go I'll quickly share my AM spin workout with you. I was planning on strength training this morning but my body just wasn't having it. I guess I'm still pretty sore from Mondays workout and tired from yesterdays 10k. I opted for intervals on the spin bike instead and I'm ready to hit the weights tomorrow.
This workout flies by so fast! If you don't have access to a spin bike, you can use a regular stationary bike or even apply it to an elliptical or treadmill. I literally had a puddle of sweat around my bike when I finished….because you needed to know that right?!
40 Minute Spin Bike Workout
5 Minute Warm-Up

5 Rounds (See Below):

30 seconds easy
30 seconds hard
30 seconds easy
60 seconds hard
30 seconds easy
1:30 min hard
30 seconds easy
2 minutes hard
Round 1: Seated sprints (medium tension, very high RPMs)
Round 2: Standing hills (very high tension, medium RPMs)
Round 3: Seated hills (high tension, medium RPMs)
Round 4: Seated sprints (medium tension, very high RPMs)
Round 5: Standing hills (very high tension, medium RPMs)
Time to switch my attention over to Master Chef. Anyone else watching it? Predictions?
I'll be back tomorrow with 1 of the 3 recipes I talked about so come back then and say hello!
What was the tastiest thing you ate today?
xo -Deryn