I'm finally back with a new WIAW post! Somehow it's been 4 weeks since I've posted one, but what can ya do – it's summertime! Honestly, the last thing I've been wanting to do is spend time in the kitchen, followed by more time at the computer. Especially since I work on a computer all day for a living! As soon as I get home I usually want to head straight outside to enjoy what sunshine remains. Plus, I think these two dogs of ours highly appreciate that.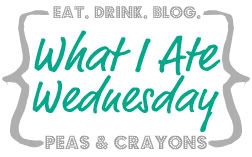 I'm going to get straight to it today, so here it is! What I Ate Wednesday #13.
Breakfast
Chia Pudding: Chia seeds, strawberries, ground flax, natural organic peanut butter and a pinch of maple syrup
Organic Coffee with Almond Milk
I've eaten chia pudding for breakfast for almost two weeks straight now! It may have something to do with being a little low in the groceries department. All I need is water and whatever I'd like to add in. Last week it was peanut butter and blueberries, this week flax and strawberries, okay – and peanut butter again. It's perfect because I can throw it in a container before the gym and post-workout it's ready to go! Delicious! By the way, I'm so happy some local coffee shops are starting to carry almond milk! It's about time right?!
Morning Snack
Whole wheat tortilla with grated zuchinni, lentils and lettuce
Lunch
Afternoon Snack (Pre-Workout)
Afternoon Snack Post-Workout
Snack
I'm usually ravenous when I get home from work and if I don't eat something I'll eat enough dinner for 4 people. Having a small snack prevents me from eating way too much all night. I had a left over baked sweet potato that did the trick today, I just ate with cold with a little sea salt, pepper and a dash of cinnamon.
Dinner
Vegan Vegetable Korma with Brown Rice
I based this dish off of this recipe for Weeknight Vegetable Korma from Delicious Knowledge. This wasn't the best dinner choice for a hot summer day but it was definitely delicious! I will make this again on a cold winters day and I'd imagine that would be just about perfect. I adjusted the quantities slightly, adding a little extra spice and veggies but I more or less followed along. It had potato, chickpeas, broccoli, cauliflower, carrot, peas, onion, coconut milk and an awesome combination of Indian-inspired spices.
I stumbled across the recipe on Pinterest today while looking for a dinner idea and I'm so glad I did because it led me to Alex's blog. Her blog is packed with awesome vegan recipes, workouts and more! I can't wait to try some more of her recipes! I'm always excited to find new healthy living blogs and this was was a good find for sure!
Dessert
Raw & Vegan Chocolate Peanut Butter Cup (Recipe coming soon!)
Oh, if you guys only new how many dessert failures I have in the kitchen. My biggest downfall in the kitchen is certainly my impatience and tendency to rush, but sometimes my goodies actually do work out how I want them to. Amazingly and much to my peanut-butter loving delight, this was one of them! These came out perfectly!
Reese Peanut Butter Cups were always my favourite chocolate bar, but trust me, you don't want to know what scary ingredients are hiding in those delicious cups of sweet and salty perfection. These vegan chocolate peanut butter cups come close enough for me. I might just need to do one tiny tweak to the size, but for now I'm just trying to avoid a second (or third, or fourth) trip to the kitchen to grab another.
There you have it, that's it for my What I Ate Wednesday post #13. Besides all those yummy eats, I drank a boat load of water and besides the AM coffee, that was it for liquids.
Workout wise, I had a terrible workout today and only made it half-way through my Soldier of Steel workout. Turns out you can't skip a rest day and do the hard workouts back to back. Who knew?! Well, I did, actually but I tried anyways and my body did not, in any way, shape or form, agree with me.
I plan to run an easy 10km tomorrow morning and do the week 4, day 5 workout early Friday morning before heading up to Squamish for SQUAMISH VALLEY MUSIC FEST!! WOOO! I don't often use caps, but when I do, it's to stress my excitement for live music in a big field on a hot sunny day with friends and beer. Anyone else going this year? This will be my 3rd attending and the line-ups just keep getting better.
Peace, love and happiness my friends! Goodnight!
xo -Deryn