Well hello hello everyone! Things are starting to get back to normal after a long weekend away from the world at Homfray Lodge in Desolation Sound. Although amazing and beautiful, it's quite the journey to get to up there so my online life was been a wee bit neglected this past week. But I'm back and I have lots to share today!
If you ever have the chance to visit Homfray Lodge I'd highly recommend getting yourself up there, it's truly an incredible place. I'll let the photos speak for themselves but you definitely have to be there to experience how amazing it really it.
It was an amazing weekend with family and friends, good food and plenty of sunshine and cold beer. Hence the desire to start a 10 day raw food re-set today! I didn't think twice about what I ate or drank over the weekend, I kept it vegetarian of course, but not vegan.
There were cookies, chips, veggie dogs, french toast and more. I don't mind though, it was only a few days and I didn't overeat plus there were lots of fresh veggies and hummus to fill up on too.
Yesterday, we still had house guests back in Vancouver and they took us out for a sushi dinner and beers so I was really, really craving the start of my detox today! Last night, I stocked up on loads of fresh veggies, fruits, nuts and seeds yesterday in preparation for the coming week of healthy eats.
My detox won't be too far off from my normal eating habits but I'm going completely raw which I don't normally do. I'm also cutting out caffeine so the daily coffee is out for a while. I'm still eating plenty of food, today I ate 6 times and felt satisfied all day. No problemo! I feel amazing already! Here we go!
What I Ate Wednesday #12: Raw Food Re-Set Day 1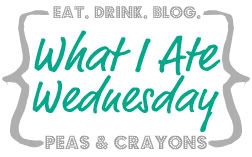 Breakfast
Lemon Detox Tea
Blueberry Kale Smoothie 
1 cup almond milk

2 leaves kale

1 cup frozen blueberries

1/4 cup frozen cranberries

1 banana

2 tbsp hemp protein

2 tbsp organic natural peanut butter
Morning Snack
Goji Berries, Pepitas and Almonds
2 Mandarin Oranges
Lunch
Big Kale and Pepper Salad with Lemon Tahini Dressing
The salad has kale, mushrooms, broccoli, hemp seeds, peppers, onions and cucumber and the dressing had tahini, lemon, olive oil, garlic, sea salt and pepper. Simple and delicious.
Afternoon Snack
1 Organic Apple
1 serving North Coast Naturals Ultimate Daily Greens
Dinner
Raw & Vegan Pad Thai made with Zucchini Noodles
Omg this was so good! I really want it to be lunch time tomorrow so I can just eat my leftovers already! I'll have a recipe for this coming soon on the blog. It's really easy to make in with simple ingredients and about 20 minutes of your time. I think this is a new favourite dish. Yum.
Dessert
Raw & Vegan Chocolate Coconut Pudding Parfait
Print
Chocolate Coconut Pudding Parfait
Author:

Deryn Macey

Cuisine:

Vegan, Raw
Ingredients
1 cup cashews, soaked at least 3 hours, drained and rinsed
1/4 cup coconut milk
2 tbsp raw cocoa powder
3 tbsp maple syrup
4 strawberries
1 small banana
fine unsweeteneed coconut
Instructions
Place the cashews, coconut and maple syrup in a blender and mix on high until smooth. Continue mixing and scraping down the sides until it's a nice, smooth consistency.
Place a layer of the pudding in a small bowl, followed by sliced strawberries, then another layer of pudding and top with banana.
Sprinkle with unsweetened coconut and enjoy!
Serves 2.
There you have it! A day of raw, vegan eats, easy-as-pie to put together and totally delicious! I don't think I'll have much trouble sticking to a raw food diet for the next week or so. If it was winter it would be a different story, but it's so hot out that I'm more than happy to leave the oven and stovetop unused.
Todays workout was a quick 30 minute shoulder and arm burner. I'll have to get back to my AM training sessions tomorrow so I have more time! It was still a good workout though and I know my arms will be feeling it tomorrow! I rarely workout in this style and I've been thinking of changing it up and doing a split-routine for a while rather than my usual Crossfit-style workouts. I will share my training plan in my upcoming Get FIT Fridays post if you want to see what I have in mind!
Superset #1 x 3 Sets:
Lateral Raise x 15
Hammer Curl x 12
Superset #2 x 3 Sets:
Front Barbell Raise x 15
Barbell Curl x 15
Superset #3 x 3 Sets:
Overhead Press x 15
Tricep Kickback x 15
Superset #4 x 3 Sets:
Upright Row x 15
Overhead Tricep Extenstion x 15
Well, I've gotta run, I'm up too late again because my site was having some issues earlier in the evening. I only had a minor freak-out and got it all resolved but I should probably think about backing this baby up!
Blogger friends – do you have your WordPress sites backed up? What do you use?
How was your long weekend? Did you keep it healthy or indulge in a few treats?
Have you ever done a cleanse or detox? Thoughts?
I'll try to check-in with my raw food re-set progress on Facebook, Twitter and Instagram so be sure to come connect with me!
Goodnight kids!
xo -Deryn