Here we are again for another edition of What I Ate Wednesday! It's only my 11th time posting WIAW but did you know Peas and Crayons is on issue #126….126!!!! That's a lot of eats and treats posted for us all the drool over. If you're new to WIAW, here is a little exerpt from Peas and Crayons discussing what "What I Ate Wednesday", a weekly social blogging event, is all about:
"—-

What WIAW 

isn't

 about

—-
Comparison – Judgement – Restriction – Guilt
—-What WIAW is about—-
Celebrating one of the glorious things we all have in common: We all eat!
WIAW is about food and fun! It's about making new friends, breaking out of a food rut, noting changes in your diet/lifestyle, inspiring yourself & others, embracing fruit & vegetables, nourishing your body with the foods that work for you, finding new ways to eat your favorite foods, and so. much. more.
Celebrate Food.  Celebrate blogging.  Celebrate Individuality."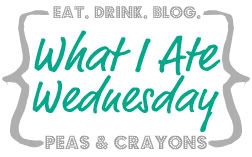 I wanted to mention that again so you know that these posts simply serve to inspire and share and I in no way intend to tell you what you what or how to eat! I love getting meal and snack ideas from the now hundreds of bloggers that join in on the What I Ate Wednesday fun. If you want to check out some of their posts you can find everyones links over at 
Peas and Crayons in her latest post.
Okay –  here we go! Onto my eats from another busy Wednesday!
Upon Rising
Warm water with lemon and apple cider vinegar
Most mornings I start the day with a cup of warm lemon water, but some days I take it up a notch with 1 tsp of apple cider vinegar for a little cleansing action! If you're feeling extra spicy you can also add 1/4 tsp of cayenne. It's an amazing way to start the day!
Breakfast/Post-Workout

I'd call these overnight oats but they're more like 3 hour oats. I add all the ingredients to a container around 6am and then eat them at my desk after the gym at about 9am. I don't heat them up, they're just delicious as is! I've been continuing to use Iso-Protein this last week but once it's empty I'll switch to a vegan option.
Morning Drink
Time for another refreshing and delicious lemon drink! This is another daily favorite of mine, it's just warm water, lemon and about 1 tbsp of goji berries. This is a great alternative to caffeinated beverages and the plump, juicy berries are so tasty!
Lunch
Leftovers: Coconut Curried Tofu and Vegetables
I've been trying to get this recipe up for you guys but I can't quite get it just right. The first time I made it I didn't measure anything and it was so good! Now I can't seem to replicate it the same way. I'll keep trying, it's good but not great!
Afternoon Snack #1
1/2 an avocado with Sirracha, lime, salt and pepper
Afternoon Snack #2
I was not a fan of this at all! This was one of those Whole Foods impulse buys that I thought I needed to try. I found it way to sweet and the texture to be a little funny. I won't buy it again.
Dinner
Sweet Potato Burger with Avocado
BBQ'd Portobello Mushrooms
I whipped up these burgers on a whim and they have oats, ground flax, red pepper, green and red onion, garlic, cilantro and peanut butter. They were really easy to make, completely vegan and hold together well on the BBQ. As for the mushrooms I just drizzled with olive oil, balsamic vinegar, salt and pepper and grilled for about 7 minutes on each side. So. Good.
That's it for today, no desserts tonight, too full!
With What I Ate Wednesday complete, on to my Workout Wednesday! This will be my last workout until Tough Mudder on Saturday! I'll do some cardio tomorrow and on Friday but nothing too intense – I'm getting pretty pumped for the big day! Can't wait!
Repeat 2 Rounds:
5 minute Run – 0% incline/8 mph
20 x Walking Lunges with Knee to Opposite Elbow
5 minute Hill – 15% incline/3.5-4mph jogging/walking
20 x Pushups to Side Plank
5 minute Run – 0% incline/8 mph
20 x 180 degree Box Jumps
This one will keep you moving, and seriously sweating! For the box jumps start by facing a bench, then jumping up and landing on the bench, and then jumping off and landing on the other side, complete a 180 degree hop and then box jump back up and over and repeat. I'm in love with these lately, so much fun and your hole body (and lungs!) will be on fire by the time you hit 20 reps. If you really want to step it up a notch, add a burpee on either side of the bench, I did these last week and they're killer!