Happy What I Ate Wednesday friends!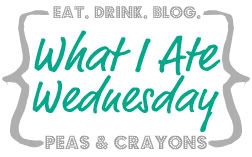 I actually have a really good WIAW for you today and it's filled with amazing plant-powered foods! I might just be saying that because I just finished dinner and it was so delicious. Sometimes I make the best dinners when I have no idea what to make for dinner. In addition to my big, fresh salad of a dinner I had a very tasty, comforting lunch!
Last night I made pasta with cauliflower 'meat' sauce and nutritional yeast/almond vegan 'parmesan'. Seriously, yum. Ohhhh, and creamy, decadent cashew cream was also a part of my day. AND yummy little hemp protein bites. Gosh, I love eating vegan. It's the best. You may notice I ate 3 meals and 4 snacks today but I was a bottomless pit and couldn't  get enough in my belly! Sometimes I have days when I'm hungry every hour no matter the size of the meal, so small snacks works best. I can't really complain because well, I love to eat!
In some news other than what I ate today, we're moving! We finally found an apartment and after a few ups and downs, the place is ours. We'll be moving from the beautiful West End to the equally as beautiful Kitsilano. I love my West End nighborhood and I'm sure I'll miss it, but I'm excited to explore a new area and find new some new favourite spots!
Alright, onto all this yummy food.
Breakfast
Superfood Smoothie!
1.5 cups unsweetened 

vanilla

 almond milk

1 banana
1 cup fresh spinach
1 cup frozen blueberries
1/4 cup frozen berry mix – cherries, strawberries, blackberries
1 tbsp ground flax
2 tbsp North Coast Naturals Organic Hemp Protein
1 scoop North Coast Naturals Ultimate Daily Greens
Morning Snack #1
Morning Snack #2
1 Sliced Apple with a few tablespoons of Maple Cashew Cream
I made a batch of cashew cream last night and my fave thing to use it for is dipping fruit. It's actually extremely easy to make and you can add what ever flavourings you like. Just soak 1 cup of cashews in water for 4-8 hours, then drain and rinse well. Next just add them to a blender with fresh water and your choice of flavour. My favourite is maple syrup and vanilla, but even plain is good! I don't usually measure the water, I just slowly add it in until I reach the right consistency. I added a bit too much to this batch so it was a little runnier than normal, but still wonderfully delicious.
Lunch
I was feeling really lazy when I got home from work last night and this meal was the perfect solution to my laziness. It's so quick and easy to make and only requires a few basic ingredients  I'd say this is a great meal for those trying to go meatless a few times a week as it's very filling and satisfying. I often make vegan parmesan out of almonds and nutritional yeast, it's really easy to make and great for adding a punch to salads, pasta, and other places where you would use parmesan cheese.
Now  let me tell you about cauliflower. Cauliflower is a vegans best friend. It's a magical, versatile vegetable that can be transformed into all sorts of things it's not. One of my favourite things to do with it is finely grate it and use it to thicken up sauces and chilis.
To make this cauliflower 'meat' sauce, just saute the onions and garlics in olive oil for about 5 minutes then add the grated cauliflower and continue to cook on high heat with a little salt and pepper. After about 5-10 minutes add the sauce. Lastly add the spinach and cook until it's mixed in. To make the vegan parmesan just blend all the ingredients on high for a minutes until it has a parmesam-like texture.
Sauce:
1 head of grated cauliflower
1 jar of organic tomato sauce
2 small yellow onions
4 cloves mixed garlic
3 cups of fresh spinach
Vegan Parmesan
1/4 cup Nutritional Yeast
1/4 cup Almonds
1/2 tsp garlic powder
1/4 tsp salt
drizzle of olive oil
Afternoon Snack #1
2 Tablespoons of Raw Pumpkin Seeds
Afternoon Snack #2
Cucumber and Almonds
Dinner
Tri-Colour Pepper and Spinach Salad with Avocado, Hemp Seeds and Creamy Almond Dressing
This is was really, really tasty. There are so many different flavours and textures going on but they all go together perfectly. The dressing is really tangy, creamy and fresh and the salad is nice and crunchy. Those two combined with creamy avocado, nutty hemp seeds and alfalfa sprouts makes a delicious concoction of healthy goodness!
Salad:
fresh Spinach
1 yellow, 1 orange, 1 red pepper, diced
1 crown of broccoli
3 carrots, thinly sliced
1 red onion, diced
Creamy Almond and Basil Dressing
1/4 cup almonds
1/4 cup water
1/4 cup lemon
1/4 cup olive oil
3 tbsp packed fresh basil
sea salt
ground black pepper
Toppings
Alfalfa Sprouts
Avocado
Hemp Seeds
That's it for todays eats! I hope your day was a yummy as mine.
I had an excellent few days of workouts in addition to all this awesome food! Yesterday I did a 40 minute hill run on the treadmill. I will share the details in a separate post soon, it's a really good one! Trust me, you will be SWEATING! Here are my results, I ran it at a fairly easy pace but there were hills galore.
Todays Workout was a really good one too. I had tons of energy for this workout and powered through each and every second of it. Give it a try and see if you sweat as much as I did! You can see my workout plan in the picture below. For the best results, make sure you always have a plan before you head to the gym! Even if it's as messy and hard to read as mine.
3 ROUNDS:
60 seconds lateral hop
30 seconds rest
60 seconds clean and press
30 seconds rest
60 seconds high-plank shuffle/bear crawl
30 seconds rest
60 seconds box jump
30 seconds rest
60 seconds push-up to side-plank
30 seconds rest
30/30 seconds 1-arm bent-over dumbbell row
30 seconds rest
For the lateral hops I just used a bench with no risers and hopped up and over it quickly. For the clean and press I used a fairly, light bar because it's all I had but I went really fast and really focused on the movements. For the plank shuffle, start in a high-plank position and shuffle 5 times to the, 5 times to the right, 5 times backwards and 5 times forwards and then repeat. These are an amazing workout!! Especially the forward and backward variation. For the push-up to side-plank I did my pushup then balanced in side-plank for 5 seconds repeating on each side with a push-up in between.
I used a 25 lb. dumbbell for the rows and went really fast. Pretend you're starting a lawn mower but make sure you keep your form! You can see the bars I used for the clean and press in the picture below, I love these things! They're awesome for lunges, squats and all sorts of other exercises..
Alright, I think I got everything in I wanted to! I know it was a long one, I hope you made it through!
How was your day? What was the yummiest meal or snack you ate today?
xo -Deryn