Hmm, somehow it's already been 6 weeks since I started weekly WIAW posts. Oh, where does the time go? It's also almost my 3-month bloggiversary and what an awesome 3 months it's been! I have a few exiting giveaways coming up on the blog, I've connected with a ton of awesome bloggers and I'm really loving sharing my experiences with healthy living! Blogging is a huge time investment but so far the rewards have been wonderful. I hope you're finding something interesting or inspiring here in my little space on the interweb.
I don't mind the time passing quickly because it means summer is just around the corner and we have so much awesome-ness planned this year! A few of which are a trip to Homfray Lodge, Montreal to visit my brother, Squamish Music Festival and camping at Deception Pass. Ya..yay, and those are just a few!
Wednesdays have definitely been upgraded to one of my favourite days of the week. I love checking in on my fellow bloggers WIAW posts and to find awesome meal and snack ideas. Head on over to Peas and Crayons to check out all the link-ups. Just make sure you have a bit of time to browse!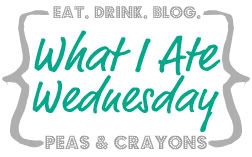 I'm still sticking to recording my actual day of eats on Wednesdays and I think I'll just keep it that way. Even thought it's not that exciting, I think it's helpful to show how I eat on a typical busy day.
Breakfast
This was totally delicious. I love the combination of peanut butter and berries! I drank some of this while I was getting ready for work and then took the jar to-go, finishing the rest at my desk. Seriously, dessert for breakfast.
Chocolate Berry Smoothie
1.5 cups of dark chocolate almond milk
1 tbsp natural peanut butter
1 scoop of North Coast Naturals Ultimate Daily Greens
2 tbsp North Coast Naturals Raw Hemp Smoothie in Chocolate
1 banana
1 tbsp ground flax
1 cup of frozen berries 
Morning Snack #1
My snacks today are really nothing exciting. First of all, I have a huge bag of apples at home I need to get through, so it's been two-a-day all week and secondly, I need groceries. I'll try to start getting back to more creative weekday snacks but lately it's been either apples with nuts, seeds or nut butter, raw veggies or some sort of raw energy bite. What can I say, it's easy and my time is limited.
Morning Snack #2
I brought this to work just in case I got hungry, which was a silly reason because I'm pretty much always hungry. This was just a few little bites to tide me over until lunch time.
1 small piece of homemade Oat Squares
Lunch
Lunch was leftovers from dinner last night and yummm, it's one of my favourite dressings, so tangy and fresh! The only downside of this salad is it's really crunchy and I work in a very quiet office.
Afternoon Snack
1 apple, raw pumpkin seeds, green ginger tea
Dinner
I recently got  a new spiralizer so I've been on  a little bit of zucchini noodle craze. I love zucchinis, I think we eat them at least 4 or 5 times a week. Now that I can eat them in noodle form, even better! They had some lovely organic zukes at the store today so I picked some up to make noodles for this Thai red curry. The sauce had coconut milk, red curry paste, ginger, soy sauce and coconut sugar. I then added carrots, eggplant, red peppers, onion, garlic and more zucchini and cooked it all into a delicious topping for the noodles.
Vegetable Red Thai Curry with Zucchini Noodles
Today was a rest day so I hopped on the stationary bike at the gym to get moving during my lunch break.  I just did 30 minutes of intervals, some 60 second longer intervals and some 20 second sprints. I was dripping sweat all over the place, I don't know what it is about the bike but I sweat like crazy. My pink shoelaces have totally been taking my workouts up a notch! I can't wait to train tomorrow, it's going to be a hard one, I'm not sure what yet but I'll let you know! Friday is hills day, Saturday weights again and Sunday is a 16km outdoor run.
In other workout news, I started taking a few supplements to see if I can shorten my recovery time and reduce muscle soreness. I'm taking a BCAA/Glutamine pre-workout formula and last night I started taking a bedtime 5 g of L-Glutamine. I'll start taking some daily notes on how I'm feeling so I can sort out what's working and what's not.
I don't know if it's just a placebo effect or not but ever since I started taking my pre-workout mix last week, I've been having really awesome workouts! I dont' really care if it's a placebo or not, I'll take it! I'll keep you posted on what I'm taking and when and let you know how it works out for me. I also take my daily greens everyday and usually 1 serving of hemp protein, but I don't really consider those to be supplements.
What, if any, supplements do you take? Advice?
hugs all around -Deryn