Geez, do the weeks ever go by fast!! It's already time for another What I Ate Wednesday post. Before I continue I just want to clarify what WIAW is all about. Many health and fitness bloggers participate in WIAW and it's a great way to encourage, inspire and share ideas for healthy meals. I also feel that by sharing typical day of what I eat you may be surprised by how easy it is to follow a healthy diet. That being said, this is only how I eat and what works for me, I'm not saying this is how you should eat by any means. There is no right or wrong way to eat, but it can be fun to share and learn about others eating habits.
(Head on over to Peas and Crayons to read more about WIAW.)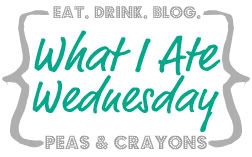 Last night I attempted Homemade Hazelnut Almond Butter and it came out wonderfully, but it did require a lot, and I mean a lot, of patience. The taste is excellent and it was easy to make, it just took a long time to turn from dry to buttery.  I was feeling ambitious last night so I also made roasted garlic hummus with some organic garlic I found on sale. I'll share the recipes for both of these coming up soon. They're both really easy to make and make great weekday snacks. For the Kale Hazelnut Pesto on my lunch, I used the Spinach and Hazelnut Pesto recipe I posted a while back and just subbed kale for spinach. The hubs is feeling under the weather this evening, so for dinner on this rainy Vancouver day I made a comforting Kale, Brussel Sprout and White Bean soup, I will post the recipe soon on the blog! It's super easy to make, very filling and packed with healthy goodness!
Here's todays eats:
Upon Waking: Glass of water, Juice of 1/2 a Lemon, Ultimate Daily Greens
Breakfast: Rolled Oats made with Water, 1 tbsp Chia Seeds, 1 tbsp Ground Flax, 1 Banana, 2 Dates + 1 Green Tea
Snack: 1 Apple, Hazelnut Almond Butter
Lunch: Leftovers of Kale Hazelnut Pesto, Asparagus, Broccoli and Smart Pasta
Post-Workout: 1 Serving of Raw Hemp Smoothie
Afternoon Snack: Raw Veggies and Roasted Garlic Hummus + 1 Green Tea
Dinner: Kale, Brussel Sprout and White Bean Soup
Other: LOTS of water, mostly with lemon 
I'm pretty exited about todays run. I was actually dreading it because I forgot my headphones at home, and that's pretty much the worst thing ever, but it ended up being a really good run. I'm also super sore from the last few days of workouts so I though today would be a struggle, and it was but in a good way.
Todays Workout: 6 x 800m on the Treadmill
1 @ 8.6 mph
1 @ 8.7 mph
1 @ 8.8 mph
1 @ 8.9 mph
1 @ 9.0 mph
1 @ 9.1 mph
Between each repeat I walked 100m to recover.
Yesterdays Workout: Cardio Tabata
Tabata #1: Standing Sprints on the Spin Bike
Tabata #2: High Knees
Tabata #3: Treadmill Sprints @ 10 mph
Tabata #4: Standing Sprints on the Spin Bike
Cool-Down: 1 Mile Jog
This is such a simple, effective workout if you're short on time. The work period is only 16 minutes, but if you do it right, that's all you need! I didn't know it was possible to sweat so much in such a short period of time. Dripping. I think those high knees really did me in today, my calves are so sore they're getting a stretch with every step. My hip flexors are also ridiculously tight, as soon as I'm done this post I'm hitting the foam roller and some yoga. My chest, back, abs and hamstrings are still sore from Mondays Legs, Core and More Superset Workout, so I'm going to take a rest day tomorrow and gear up for training on Friday and a 14k run on Saturday. Sunday will also be an active rest day as we'll be travelling back from Vancouver Island.
Okay, that's all for today, it's time to get away from the computer for the rest of the evening, but here's what I have coming up for you on the blog:
Homemade Hazelnut Almond Butter
Roasted Garlic Hummus
Kale, Brussel Sprout and White Bean Soup
20 Vegan Staples
At-Home TV Workout Series: Workout #1
What was one healthy meal or snack you enjoyed today?
xo -Deryn