I'm back! I just checked and my last WIAW post was April 18th! I've missed about 6 weeks, wow, I guess moving really threw a wrench in my routine! Anyways, I'm back and ready to share some day-to-day eats with you. I'm happy to be back and to join in on all the WIAW blogging fun!
I just checked in on Peas and Crayons and she set a Sensible Snacking theme for June so I'm looking forward to sharing some healthy snacking inspiration over the next month! I love snacks so that shouldn't be a problem! Geez I use a lot of exclamation marks, sorry!! Just kidding, sorry.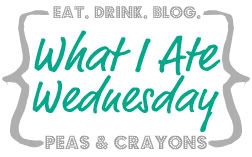 Okay onto my What I Ate Wednesday!
I was up at 5:30am today (ughhhh) and out to walk the dogs for 30 minutes before dropping the hubs at work and heading to the gym and then onto work after that. I have to get up at 5:30 to walk the dogs because after we leave at 6:30am they're on their own until 4pm, so 5:30am it is! Trust me, those lazy pups would rather stay in bed too.
I seriously hate rolling out of bed at that time but I always think of the regret I'll feel if I don't get my workout in, and somehow it's enough to get myself out the door.
6am Post-Walk and Pre-Workout
North Coast Naturals Ultimate Daily Greens
1 Coconut Chocolate Chip Cookie (I was really hungry!)
Black Coffee
Sometimes I just feel like baking even if I don't want to actually eat what I'm making and last night was one of those times. Do you ever just feel like making something? I must say I'm a really, terrible baker and should probably stick to raw desserts but these actually worked out pretty good! The dough was coconut flour, vegan chocolate chips, maple syrup, oats, vanilla, olive oil and natural peanut butter.
I have absolutely no idea as to the amount of each ingredient, I just kept adding them in until I had a nice dough then baked them for about 10 minutes. Surprisingly, they actually worked out and saved the day for my pre-workout snack this morning.
8:30am Breakfast
I've been making my way through these amazing different varieties of Dorset Cereals and they're all really good! My whole life I've never been a cereal person, even as a kid I never ate the typical kids cereals my brothers always scarfed down by the boxful. Dorset Cereals might have brought me around though, they're really good and actually healthy!
Most store-bought cereals and especially granolas are really awful, packed with sugar and oil but Dorset Cereals uses only real food ingredients with no added sugar, plus they're not cooked in oil and they have all sorts of delicious add-ins like coconut, hazelnuts, flame raisins, almonds and other goodies. Their slogan is "honest, tasty, real" and I love that.
They even work as overnight oats, I've tried that a few times and it's super tasty! I'll be posting my full review and a giveaway coming up soon on the blog so stay tuned for your chance to win a few boxes for yourself!
The only problem today was I ran out of almond milk this morning so my breakfast was really dry, but I scarfed it down anyways, starving after my AM training session.
10:30am Morning Snack
1 Organic Apple

Sweet Potato Fries
12:30pm Lunch
2 Swiss Chard Wraps with Avocado, Shredded Carrot, Cucumber and Bell Peppers with an Almond Pumpkin Seed Tapenade
1 Organic Apple
Last night I found this beautiful organic, rainbow chard at our local organic grocer and I knew right away I wanted to make wraps out of it. The leaves were so big and thick, perfect for filling with something delicious. I wasn't quite sure where this almond mixture was going when I threw almonds and raw pumpkin seeds in the blender but the result reminded me of an olive tapenade, so that's what I'm calling it! That plus the perfect little organic avocados, some local bell peppers and baby cucumbers and the grated carrot…totally delicious.
Print
Almond and Pumpkin Seed Tapenade
This crunchy and flavourful mixture is the perfect addition to wraps, raw veggies and sandwiches. Try adjust the amount of liquid to turn it into an excellent salad dressing.
Ingredients
1/2 cup almonds
1/4 cup raw pumpkin seeds
1/8 cup lemon juice
1/4 cup + 2 tbsp extra virgin olive oil
3 cloves garlic
1 tsp apple cider vinegar
1/4 tsp sea salt
1/4 tsp red pepper flakes
Instructions
Blend all ingredients on high until well-mixed. Serve immediately and store any left overs in an air-tight container in the fridge.
2:00pm Afternoon Snack
I don't normally eat these but I found them on sale super cheap and stocked up. I've been enjoying them as a yummy afternoon treat all week 🙂
3:30pm 2nd Afternoon Snack
When I workout early in the morning I'm pretty much a furnace and bottomless pit all day long, I eat frequently! I was getting hungry again by mid-afternoon so I added in a hit of hemp protein at only 90 calories! I really love this stuff, it comes in Natural Chocolate and Berry Burst, I love them both and use them almost daily.
6:30pm Dinner
Brussel Sprouts, Rainbow Chard, Yellow and Orange Bell Peppers, Garlic, Chinese Baby Bok Choy with Quinoa and a Sauce of Coconut Milk, Organic Vegetable Bouillon, Tumeric, Curry Powder, Red Pepper Flakes, Sea Salt, Black Pepper and Garlic Powder
That's it for the day! Okay, I lied. I just made a few chocolate-covered strawberries and the hubs and I will share them with Masterchef coming on soon. Is anyone else watching that show? I'm totally hooked already. I only made a few berries each so it was roughly 1 tbsp of coconut oil, 1 tbsp of cocoa powder and a wee bit of maple syrup for the chocolate. They set in about 15 minutes in the fridge and are ready to eat!
Okay, that's it for real! Well, except for mass amount of water and 1 afternoon green tea. Okay, done.
This mornings workout was a really tough one – can you say 100 burpees!? I'm already feeling this workout from head-to-freakin'-toe.
5 Rounds:
20 x Box Jump (Riser with 6 Steps)
20 x Kettlebell Swing
20 x Wallball
20 x Kettlebell Deadlift to Highpull
20 x Burpees
Did I mention that Tough Mudder is in less than 4 weeks – LESS THAN 4 WEEKS! omg. I've been alternating between not worried at all and totally freaked out! I really want to hit it hard over the next 4 weeks. I've got an 11km trail race coming up next weekend so that will be a good training run, other than that it's conditioning at the gym and completing the Grouse Grind a bunch more times. Eeeeek! 4 Weeks! Anyone else out there competing in Tough Mudder Whistler this year?
Alright, that's my first What I Ate Wednesday back. It's kind of a weird one but at least you can see another day of typical eats from little ol' me.
Now to go read all of your WIAW posts and drool!
Night!
xo -Deryn