I decided to jump on the WIAW bandwagon as I've recently had a lot of people asking what and how I eat. Wait, you don't eat cheese? No milk? No meat? What could you possibly have left to eat!? I though it might help if I could show the variety of foods I eat and how easy it can actually be to eat a plant-based diet.
So, here is my first What I Ate Wednesday post. I don't know how many calories it was, how much fat I consumed or the amount of carbs or protein but I do know I had tons of energy, I was satisfied after every meal and I looked forward to eating every little morsel of plant-powered goodness.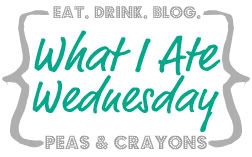 Breakfast:
Oats with chia seeds, flax meal, 1 banana, 1 medjool date, cinnamon, almond milk and 1 tbsp all-natural peanut butter + 1 small black coffee
Morning Snack: Grapes, cucumber, pumpkin seeds + 1 decaf green tea
Lunch: Leftover Roasted Chickpea, Broccoli and Cauliflower with Quinoa and Lemon Tahini Dressing 
Lemon Tahini Dressing from Oh She Glows
1/4 cup Tahini
2 garlic cloves
1/2 cup fresh lemon juice (about 2 lemons)
1/4 cup Nutritional yeast or a bit more, to taste
2-4 tbsp Extra virgin olive oil, to taste
1 tsp kosher salt + freshly ground black pepper, or to taste
3 tbsp water, or as needed
Add all ingredients to a blender or food processor until smooth.
Afternoon Snack: 1 Apple (not pictured, I scarfed it down after my workout), almonds + 1 decaf green tea
Dinner: Spinach salad with cucumber, carrots, red cabbage, green pepper, pumpkin seeds, quinoa and Maple Balsamic Roasted Beets with Maple Balsamic Dressing, Coconut Oil and Garlic Sautéed Asparagus
These roasted beets are so good, the only downside is they take about an hour to cook but it's totally worth it if you have the time. They're like little bits of candy and perfect added warm to a this spinach salad.
Maple Balsamic Roasted Beets
5-6 medium beets
2 tbsp olive oil
1 tbsp maple syrup
1 tbsp coconut oil
sea salt
Preheat oven to 425 degrees.
Cut beets into small pieces and place into a roasting pan, add olive oil, maple syrup, balsamic vinegar and salt. Mix well.
Roast for 45-60 minutes or until tender and caramelized.
Maple Balsamic Dressing
Olive oil

2 cloves garlic

Balsamic Vinegar

Honey

Maple Syrup

Salt & Pepper
Dessert: 1 medjool date with all-natural peanut butter and cinnamon + 1 Starbucks Vanilla Rooibos tea (The hubs brought me home a combo pack of Starbucks teas today, how sweet is that!)
Alright, that's it for the eats! On to the workout! I'm still really sore from Monday's 525 Reps Workout, but I still managed a pretty great run today. Although my hammies are seriously paying for it now! I also walked the dogs for 45 minutes when I got home from work.
400 m Repeats Treadmill Workout 
Round #1
400 m @ 7.0 mph

400 m @ 9.0 mph

400 m @ 8.9 mph

400 m @ 7.1 mph

400 [email protected] 8.8 mph

400 m @ 7.2 mph
Round #2
400 m @ 9.0 mph
Walk 60 seconds
400 m @ 8.9 mph
Walk 60 seconds
400 m @ 8.8 mph
Walk 60 seconds

400 m @ 9.0 mph

Walk 60 seconds

400 m @ 8.9 mph

Walk 60 seconds

400 m @ 8.8 mph

Walk 60 seconds
Yesterday I was feeling pretty sore, so I made it an easy day and did 20 minutes of light cardio and a core workout.
Quick Ab Circuit – No Equipment Required!
10 x Straight-Leg Sit Up to V-Up

20 x 1-Leg Kick Down

20 seconds plank

20 seconds side plank, left

20 seconds side plank, right
Repeat 4 times.
March Goal Update: #powerbowladay is going great! I've been uploading my daily power bowl pictures and I'm already looking forward to tomorrows! I've also been doing my #madaboutyoga and #handstandmadness daily poses. Today's pose is Wild Thing or Camatkarasana, one of my favourite poses ever! Wild Thing is a balancing pose, back bend, strength builder, core strengthener, chest opener, and heart opening pose all one, it does it all and it feels amazing
I practiced headstands and handstands for about 15 minutes last night. I'm feeling great in headstand, no need for the wall. I'll be sticking to the wall for a while for handstands though, partly because if I fall in our apartment I'll be taking out the flat screen, or seriously injuring myself on the coffee table or bookshelf. I love inversions so much, they're such an amazing way to start or end the day. I will be practicing again before bed tonight.
On the topic of yoga, I'll leave you with a few quotes I came across over the last few days.
"You have within you more love than you could ever understand."
"When you listen to yourself, everything comes naturally. It comes from inside, like a kind of will to do something. Try to be sensitive. That is yoga."
"Being anxious and fearful shows us that we're living in the future. Be here now, fully present. Notice the inhale, nothic the exhale. That is all you need."
Do you have a favourite yoga pose you always come back to?
Good night all!
xo -Deryn