I'm still here guys! Yep, it's been 11 days since I last posted and I do apologize. I guess life has been a little busy these past two weeks but I things should be settling down now and I'm hoping to get back to my regular 3 posts a week, starting with today! What I Ate Wednesday #19, here ya go! Enjoy!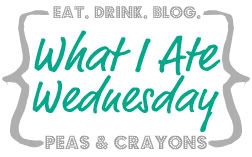 Breakfast
Pumpkin Oats: Quick oats, unsweetened almond milk, organic pure pumpkin, cinnamon, walnuts, coconut butter
1 small coffee with unsweetened almond milk
Morning Snack
Lunch
Roasted Potatoes and Acorn Squash
Broccoli, Cauliflower, Red Onion and Garlic Cooked in Coconut Oil, Lime and Almond Butter
Yes, they is a very random lunch because I had a very random dinner last night, in other words, I need groceries. It was still delicious despite it's randomness tough. I've been in love with roasted squash lately. I think a roasted acorn squash soup is in order this weekend!
Afternoon Snack #1/Post-Workout
Afternoon Snack #2
1 Organic Gala Apple
Raw Almonds
I know it's not every exciting but my afternoon snacks are almost always whole foods. I often don't have time to prepare anything more elaborate, unless I did Sunday food prep, which this week I did not. However, time is no excuse for not eating healthy – fruit and nuts save the day every time!
Dinner
Kale & Edamame Salad
Organic Black and Purple Kale
Mushrooms
Cucumber
Edamame
Sprouts
Grated Carrot
Peanut Dressing: Olive oil, natural peanut butter, red wine vinegar, red pepper flakes, sea salt, garlic
Dessert
Gingerbread Spice Tea
1 spoonful of homemade coconut butter (I'm currently obsessed and now just eating this by the spoonful..)
I've been adding evening sweet, herbal teas back into my life to help prevent mindless, unnecessary snacking. I'd have to say, it's 100% doing the trick! Could you believe I was actually too lazy to make tea before, haha! Ya, boiling water is really, really difficult, didn't you know?! As tough as it was, I recently managed to get the kettle out, fill it with water, and turn it on. Man, I'm spent.
Well that's everything I ate today. As for today's workout, I did this 30 minute treadmill run on my lunch break. I struggled through this, feeling sore and tired from the last few days of workouts but with the help of some really loud music, I made it.
30 Minute Treadmill Workout
Complete 5 Rounds:
1 minute at 6.0 mph
1 minute at 6.5 mph
1 minute at 7.0 mph
1 minute at 7.5 mph
1 minute at 8.0 mph
1 minute at 8.5 mph

Of course, if you're not ready to work up to 8.5, start at 5.0 or even 4.0 and work your way up by 0.5 mph every minute for 6 minutes. The goal is to be really working by that last minute. Here's my result:
I sure hope I get my bloggervation back soon! The healthy living blogging world has been putting out some fantastic posts lately and these ladies never cease to inspire me. Here are a few recent favourites:
All the FOOD!!! Seriously though, so much beautiful food, so little time. I'm thinking about spending the entire weekend holed up in the kitchen. Just kidding. Not really though.
Alrighty, that's it for me..bed time! Nightie-night!
xo -Deryn