Happy What I Ate Wednesday! I'm back with another day of plant-based goodness and I can't wait to share, so here you go: What I Ate Wednesday #17! It's a tasty one, so enjoy!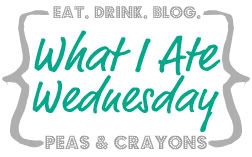 Breakfast
Peanut Butter Berry Smoothie
Morning Snack
1 Maple Nut Orb
1 small coffee with almond milk
Lunch
Whole Wheat Pasta with Spinach & Tomato Pesto, Sautéed Kale, Red Peppers, Onions and Garlic
I was a little concerned this wasn't going to work out when I made it last night, but it actually turned out amazingly delicious! The pesto had basil, tomato, fresh spinach, hemp seeds and garlic. I sautéed the onions and garlic for about 5 minutes, then added in the kale and red pepper and continued to cook for about 10 more minutes. The whole dish turned out awesome and I just might have to recipe it up for you!
Afternoon Snack
Vegan Peanut Butter Banana Muffin
Dinner
Mixed Greens and Baby Arugula topped with Tofu Fried in Coconut Oil and Spices, Navel Orange Pieces, Beets, Walnut Pieces, Avocado, Cucumber and a Sweet Dijon Vinaigrette.
This was an amazing salad and I think I found a new favourite dressing! I usually don't measure dressings, I typically just add everything in and hope for the best. Today's was the perfect combo: olive oil, red wine vinegar, maple syrup, lots of garlic and dijon mustard. So good. I cooked the tofu for a long time so it was nice and crispy, spiced with sea salt, black pepper, garlic powder and red pepper flakes, combined with the coconut oil, the flavour was awesome. And beets, amazing, amazing beets. Beets are always key to salad of epic proportions such as this.
There you have it! My 17th What I Ate Wednesday post!
I hope you're all having a great week and guess what, the weekends almost here! Woohoo! Be sure to check in on the weekend because I'll be giving away a KitchenAid Diamond Blender! Don't miss it!
What was the most delicious thing you ate today? Tell me about it in the comments!
xo -Deryn