I'll have to skip right to it today! Busy times, busy times here in my little corner of the web. I have so many posts I want to share with you guys and so little time to share them! Plus after this weekend I'm pretty much busy every weekend all Summer long. No complaints though, we have tons of awesome trips, camping and concerts planned. Yay! I've really been wanting to get all sorts of workout plans and schedules out to you guys and I hope I can find a day or two soon to work on them! Alas, that'll have to be for another day, for now my What I Ate Wednesday #10 will have to suffice!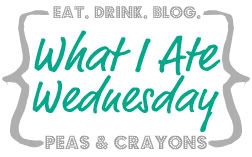 Upon Rising/Pre-Workout
Glass of water with lemon
1/2 a grande coffee, black
1/2 a fresh mango
I drink a glass of lemon water as soon as I get up every mornng, it always gets me going and is just so refreshing! I'm always hungry when I wake up so I popped open a mango, ate half and added the other half to my oats for after my workout. I was dragging myself though the 5:30am wake-up call and was really feeling like a coffee today. I drank some on the way to the gym and the rest at my desk after my workout. Mmmmmmmmmm, coffee.
Breakfast/Post-Workout
Quick Oats with True Silk Coconut Milk, 1 banana, hemp seeds, 1/2 a mango and 1 scoop Vanilla North Coast Naturals Iso-Protein

1/2 a grande coffee, black

1 serving of North Coast Naturals Ultimate Daily Greens
1 packet of Koge Daily Essentials Vitamins
You'll notice I ate some whey protein today, and no it doesn't fit my vegan lifestyle but I ate it and that's that! I don't feel too good about it though and I most likely won't continue to use it. I just had some in the house and I'm out of plant-based protein. If anything at least North Coast Naturals doesn't use any artificial flavours or sweeteners and is 100% natural.
Morning Snack
1 organic apple
A few raw cashews
Lunch
Lettuce
Cucumber
3 Kale and White Bean Falafels
Cauliflower Roasted with Nutritional Yeast and Garlic
I made these kale and white bean falafels for dinner last night but unfortunately they didn't really turn out to well. If you must know, you definitely can't sub brown rice protein for oat flour, haha! However, the taste wasn't too bad and they're packed with protein so lunch it was. I ended up making little cucumber falafel lettuce wraps and they weren't too bad. The cauliflower roasted with nooch and garlic on the other hand, was delicious!
Afternoon Snack
1 serving of Vega Sport Protein in Chocolate
After Work Snack
1/2 a banana
1 tbsp natural peanut butter
Unsweetened coconut flakes
Cinnamon
1 chopped medjool date
By the time I get home from work, I'm usually complete ravenous. This delicious, little treat filled me up just enough to get me through a 45 minute walk with the dogs, picking up a few groceries and finally getting around to making dinner!
Dinner
Superfood Salad with Creamy Cashew Dressing
This was realllllly, really tasty! I'm going to share the recipe for this amazing feel-good salad with you tomorrow. It had goji berries, hemp seeds, cranberries, organic purple kale, organic chard, peppers and an awesome creamy lemon cashew dressing with some local honey and basil from my little plant. Mmmmm! I added the superfood salad to a bed of butter lettuce for a delicious and super-filling dinner with about as many nutrients as I could pack in there! I can't wait to eat it again for lunch tomorrow!
Evening Snack
Local, organic strawberries
Who else is excited local strawberries are ready!?
Another edition of What I Ate Wednesday in the books! It's already 10:15pm, boooo! That means bed time again and 5:30am is coming way too soon.
I will quickly share this mornings workout because my shoulders are burning again just thinking about it! If you're looking for an awesome shoulder and ab workout, here you go!
Superset #1 – 4 Sets:
12 x Push Press
10 x Knee to Elbow High Plank
Superset #2 – 4 Sets:
12 x Deadlift to High-Pull
20 x Single-Leg Crunch
Superset #3 – 4 Sets:
8 x 1-Arm Dumbbell Snatch/Arm
40 x Flutter Kicks
I finished up with 10 minutes of HIIT on the eliptical and a 10 minute power walk at 15% incline on the treadmill. SWEAAAATYYYY. Can't wait to get back to the gym bright and early and do it all again! I better get to bed!
Goodnight, thanks for stopping by for my What I Ate Wednesday! And guess what?! The weekend is almost here!
xo -Deryn